Details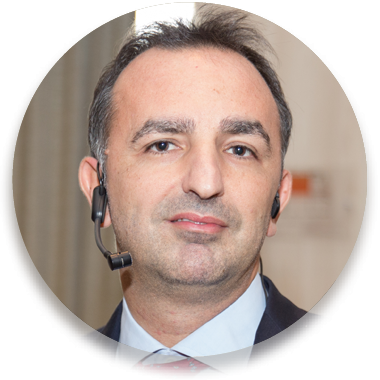 Dr. Giorgio IODICE
Dr. Giorgio IODICE
Dr. Giorgio Iodice received the degree in "Dentistry", the Specialty in "Orthodontics" and the PhD in "Oral Sciences" from the University of Naples "Federico II". He received the Certificate of Excellence in Orthodontics in Italy (Italian Board of Orthodontics) and the E.B.O. (European Board of Orthodontics). Member of the IBO examining committee from 2013, and of the SIDO Model Display examining committee in 2014. Certificated for the Incognito lingual technique in 2009, from 2012 he is Clinical Professor at the Incognito Master in Naples. Adjunct Clinical Professor at the University of Naples Federico II and Honorary Senior Lecturer at the University of Otago (New Zeland), he is vicepresident of Sialign, active member of SIDO, EOS, SIBOS, AIDOr and SIDA.
Recognizing the necessary anchorage, knowing how to obtain and maintaining it during the treatment are certainly some of the fundamental points that lead to orthodontic success. For years orthodontists have applied complex systems and various devices to maintain the desired anchorage, sometimes only partially succeeding. Situations of absence of multiple dental elements or cases of compromised tooth support could sometimes make orthodontic treatment extremely complex, if not impossible. The introduction of Temporary Anchorage Devices (TADs), safe devices and simple clinical use, has revolutionized the orthodontic world, simplifying otherwise very complex treatments, and making possible treatments otherwise impossible.
During the last fifteen years, the use of TADs has deeply transformed our daily orthodontic practice, leading to new protocols and simplified orthodontic biomechanics. Nowadays, TADs are an integral part of orthodontic treatment, especially of complex patients, providing an reliable anchorage and allowing the orthodontists to apply force system which often can not be applied efficiently with conventional mechanics.
However, the careful knowledge of the biomechanics and of the different types of movement, according to the point of application of the forces, of the bone and periodontal support, is still an indispensable element for an effective and efficient orthodontic treatment. Indeed, biomechanics principles are ever more important in designing appliances to deliver predictable force system. Hence, whilst it is of primary importance to know which sites can be preferred for the insertion of TADs, according to the desired movements, on the other hand it is essential to know what kind of movement we will obtain, if it represents what we want or if and how it is possible to optimize it.
This pre congress course will have two components. First would be to describe optimal TADs, their design and optimal insertion places in the oral cavity. Different malocclusions may require a careful selection of best site for TAD insertion for application of desired force system. Second part of the course will go over different biomechanical approaches for different clinical situations. We will deeply analyse the best TADs insertion sites and biomechanics for uprighting, lower molar mesialization, upper molar mesialization, impacted canines management, and a lot of other clinical very common scenarios.
1. Uprighting
a. Sites for TAD insertion for molar uprighting
b. Management of molar uprighting by means of a Sander Spring

2. Upper incisors intrusion
a. Center of resistance of upper incisors
b. Management of torque and sagittal position
c. Sites for TADs insertion for upper incisors intrusion

3. Lower incisors intrusion
a. Center of resistance of lower incisors
b. Management of torque and sagittal position
c. Sites for TADs insertion for lower incisors intrusion

4. Lower Molar Mesialization
a. Sites for TAD insertion for molar mesialization
b. Biomechanics of molar mesialization
c. Management of molar uprighting
5. Upper Molar Mesialization
a. Inter-radicular anchorage:
✓ Sites for TAD insertion for molar mesialization
✓ Biomechanics of molar mesialization
✓ Management of molar uprighting
b. Palatal Skeletal Anchorage:
✓ Sites for TAD insertion on the palatal vault
✓ Biomechanics of Mesialslider

6. Impacted upper canines
a. Sites for TAD insertion for impacted canines management
b. Biomechanics of impacted canines management

7. Distalization
a. Inter-radicular anchorage:
✓ Sites for TAD insertion for molar distalization
✓Biomechanics of molar distalization
b. Palatal Skeletal Anchorage:
✓ Sites for TAD insertion on the palatal vault
✓ Biomechanics of FROG
✓ Biomechanics of Distalslider
Course aims
1. To learn the features of TADs and the clinical insertion protocols.
2. Identify the optimal sites for insertion of TAD and its bone characteristics.
3. To learn advantages and disadvantages of biomechanical systems in different
clinical situations (uprighting, spaces closure, impacted teeth, deep bite, etc.)